When people think about portable storage containers, they often think about them in the context of moving. A company drops one off in your driveway, you fill it up, and it either stays there until you're ready to move, or they take it and store it at their facility. While we do this service for customers on a regular basis, we knew that there was more that these containers could offer.
Recently, the Prison Break Soccer Tournament in Leavenworth utilized one of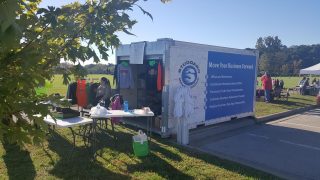 our containers for their merchandise store. We dropped off the container, and they are able to keep everything packed away securely each night, and minimize set up and teardown time.
You might notice the sizes of the containers have some very striking Studdard banners on the side. In addition to the logistical benefits mentioned above, we also offer the ability to customize the side banners to whatever you want. If you're using the container for a longer period of time and moving from location to location, these containers can become mobile billboards for your business, organization or event.
If you want to learn more about these versatile storage, logistics and marketing solutions, click here and one of our container experts will help you determine the best fit for you.
---